Whoever loves and understands a garden will find contentment within. ~ Chinese Proverb
While exploring the Conservatory at the New York Botanical Gardens, I could hardly watch where I was stepping, so enchanted was I with the intricate design of the golden struts that supported the glass ceiling of the garden.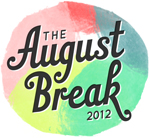 ———————
Bo Mackison is a photographer and the owner of Seeded Earth Studio LLC.  She is working through a backlog of photos taken this summer, while enjoying a bit of an August Break.
Week One : New York City.