What is seen by the eye is transformed and colored by the vision of the mind. ~ Robert Wade
Another macro view, this time highly abstract, so it's hard to identify the flower.  It's a different view of the hybrid lily photographed at the Test Gardens west of Madison, Wisconsin. Aren't these colors amazing, almost like a blazing fire.  A perfect match for the fiery days of August!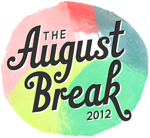 Bo Mackison is a photographer and the owner of Seeded Earth Studio LLC.