I believe nature offers opportunities for connection, the arts offer opportunities for self-expression, and life offers continual opportunity for growth and self-discovery.
Do you think of the desert as a welcoming place, as a learning and healing space? I do. I know it is true for me, and it may be true for you, too.
Let me tell you about my experiences on my own journey in the desert. I learned about her many gifts – not only her spiritual and metaphorical gifts, but also the gifts I continue to discover while living near the desert.
I didn't even know the desert six years ago. Well, I thought I knew about the desert, the way most people who have never walked a desert know it. I thought it to be endless sand, hot and dry, an occasional cactus looming on the horizon. Cartoon characters Road Runner and Wile E. Coyote were my introduction to the Sonoran Desert, the enormous expanse of arid land that covers southern Arizona and California and extends deep into Mexico.
But the desert is indeed a land of life and diversity. It is a region steeped in legend, mythology, cultures and history – region that is romanticized, but not well understood.
The desert's mystery transformed me – mind, heart, and soul – six years ago. Since that first encounter, I return again and again to fill my well in what most people think of as a desolate region. At first glance, indeed, the desert appears as a forgotten land.
In times of drought, the desert takes on myriad shades of brown. But when the monsoonal rains descend in summer and the gentler winter rains fall, the desert transforms into a land unexpectedly lush and verdant.
Let's walk in the desert. Let's explore. Seek her gifts. Listen. Learn.
In the desert, the first lesson is one of letting go of all expectations while learning to simply wait with patience and watch with awareness.
We let go. We wait. We watch.
Typically it is quiet in the hot middle of the day, and we hear only the rustle of wind against our faces. If the winds are silent, the only sounds are of our breathing and our heartbeat.
We wait, gradually embracing the solitude, the spaciousness, the endlessness. One can feel very small in the desert, and paradoxically, infinite and expansive.
As we let go and wait, the desert accepts our presence and awakens to us. The desert offers us her gifts.
The sun descends in the sky, the bleached desert-scape warms, dressed in hues of gold and bronze. Lizards scurry, cactus wrens alight on tips of saguaro, red tailed hawks soar on thermals. Desert mountains deepen in blue shadow.
We stand on the desert floor, and slowly, we take root. We connect with the earth, refill our spirits, recharge our minds.
The sun continues its westward trek. Studying the landscape, there is no desolation or emptiness. It is wild with diversity and beauty. Trees, flowering bushes and plants, cacti. Each plant has space enough to grow and thrive in this harsh environment.
We can also thrive.
We learn from the desert. We need space enough to thrive, yet community for connection. This is the desert with her gifts – community and spaciousness, solitude and grounding.
Challenging? Yes, sometimes. Fulfilling and glorious, too.
Let's wait a bit longer. The bronzes and golds deepen into shades of magenta and vermillion. The changing light astonishes, illuminates. It delights. Twilight slips across the desert and suddenly the Universe opens above our heads. The dark skies are limitless. Stars span the sky, so many stars the sky turns milky white.
We are alive and vibrant.
Light returns with the breaking dawn and we remember who we are — we know our strengths, passions, purpose. We not only meet challenges with our minds, but also with our hearts and our spirits. We answer from the very depth of our souls.
A sampling of the many gifts the desert offers:
grounding, self-reliance, release,
awareness, vulnerability, spaciousness,
attentiveness, presence, patience,
acceptance, and resiliency
Do you long for the gifts a desert experience offers?
Here is your invitation: 
Come to the desert. Discover what the ancients discovered. Join with me as I continue to experience the wisdom of the desert. I yearn to be your guide and share the desert's many gifts with you.
I offer several desert experiences and explorations:
Desert Wisdom Cards
The Desert Wisdom Cards are a set of 24 cards for reflection and inspiration, which have the power to metaphorically transport you to the desert during your meditation and journal time.
Each card has a photograph of the beautiful Sonoran Desert and a single word for musing, reflection, or as a prompt for journal writing.
Click here for more information on the Desert Wisdom Cards.
Focus Sessions
I offer creative mentoring via phone or Skype as we explore which desert gift or gifts are most useful to you. (not accepting new clients at this time)
1  60 minute focus session by phone or Skype
1 Wisdom (Focus) Card, especially created for you, relating to your current creative focus or need. Included are journal prompts, art, nature or contemplative activities, and a call to action.
Sign up for my newsletter Love Letters from the Seeded Earth. I will inform you when I am accepting new clients.
Virtual Desert Wisdom Workshops
My online retreats are designed for a small group of like-minded, values-oriented women. The focus varies as I combine several of my passions. Desert Wisdom. Photography. Book Arts. Expressive Arts. Creativity. Nature.
My online course Photography and Metaphor: A Springboard into Self-Expression and Exploration focuses on taking photographs to use as metaphors. The creation of "photo metaphors" provides a springboard into contemplative writing and the expressive arts. (This workshop will again be offered in October, 2014.)
Sign up for my newsletter Love Letters from the Seeded Earth for enrollment information.
Desert Wisdom Circles

The Wisdom Circles are available as a series.  The circle meets for 1 1/2 hours each week for 5 weeks. As we explore the natural world through writing and creative explorations, we discover her many lessons and gifts applicable to every woman's life. Workshops are offered during the summer/fall in Madison, Wisconsin and during the winter/spring in Tucson, Arizona.
Sign up for my monthly Love Letter from the Seeded Earth to receive registration information.
~~~~~~~~~
Desert Wisdom Creativity Circle at Patti Digh's Life is a Verb Camp 2014
This retreat will be offered at Patti Digh's Life is a Verb Camp, November 6-9, 2014 at Kanuga Conference Center in Hendersonville, North Carolina (near Asheville).
Five of the gifts I discovered while exploring the Sonoran Desert -  self care, grounding, awareness, discovery and resiliency – will be explored in this session as we create a mini tool kit to encourage creative, mindful living, filled with activities that can be done anytime, anywhere. Activities include making match-book books, creating a simple talking stick, writing poetry pebbles, and taking photographs (using any camera, phone cameras are fine) to use as metaphors for life.
~~~~~~~~~
Sign up for my newsletter Love Letters from the Seeded Earth  for new developments.
~~~~~~~~~
I feel a deep connection with the desert. And I want to share these discoveries, the wisdom and the experience.
Only a few women will connect with and follow this call.
Are you one of these women? Do you hear the call of desert wisdom?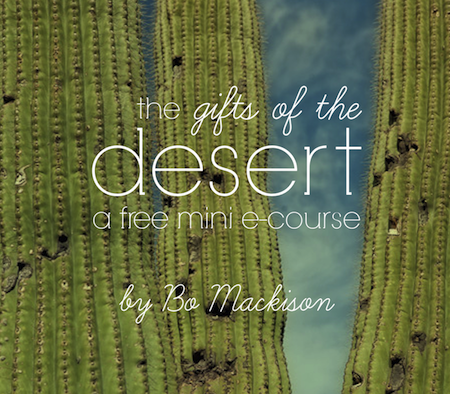 The best way to start exploring the desert as a learning ground and healing space is to take my free Gifts of the Desert e-course.
The Gifts of the Desert is a 5-part series that will connect you to the inspiring wisdom of the Sonoran desert. This mini program has five sections that are called "Self-Care," "Grounding," "Awareness," "Discovery," and "Resilience."
Fill out and submit the form below. I'll be sending you my complimentary course as soon as I receive your confirmation.