Fountain photographed at the Enid A. Haupt Conservatory at the New York Botanical Gardens in the Bronx. The Conservatory is a National Historic Landmark.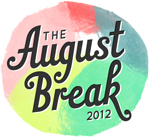 I am joining Susannah Conway's "The August Break 2012 – looking at August through your camera lens as a way to be more present this summer. And to have a little break from the pressures and  expectations of blogging"  It's everyday blogging with fewer words.

——————–
Bo Mackison is a photographer and the owner of Seeded Earth Studio LLC.  She is working through a backlog of photos she's taken this summer, while she enjoys a partial August Break.
This week: New York City.