The world of reality has its limits; the world of imagination is boundless. ~ Jean-Jacques Rousseau
Summer evening walks. Crowds relaxing around the fountain. A big white apple, a bite missing. In the Big Apple. Skyscrapers. Geometrical. A window of sky. Rows of windows. Glass building. Glass ceiling. New York, New York.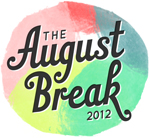 Bo Mackison is a photographer and the owner of Seeded Earth Studio LLC. She is taking an August break from writing long blog posts,and instead  reminiscing about her June travels to the East Coast.
———