The miracle is not to fly in the air, or walk on the water, but to walk on the earth. ~ Chinese Proverb
The ferns were in thick clumps in the conservatory at the New York Botanical Gardens, and offered plenty of opportunities to shoot them in different positions, layers, color combinations. This photo ended up as my favorite – very simple, a pair of ferns, side by side.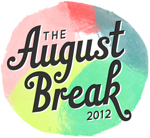 Bo Mackison is a photographer and the owner of Seeded Earth Studio LLC.  The August Break encourages posting a photo, with or without a few words, not a long blog post. Perfect for the month of August.