What are Desert Wisdom Cards?
The Desert Wisdom Cards are a set of cards for reflection and inspiration. Each card has a photograph of the beautiful Sonoran Desert and a single word for musing, reflection, or as a prompt for journal writing. The cards are only available in a limited edition of 26, and are numbered and signed.
How to use the Desert Wisdom Cards
Choose a daily card as a focus card during meditation.
Choose a card as a journal or art prompt.
Enrich your daily spiritual practice through contemplation of nature.
Inspire and nurture your creative muse.
Photographs of Desert Wisdom Card – Series I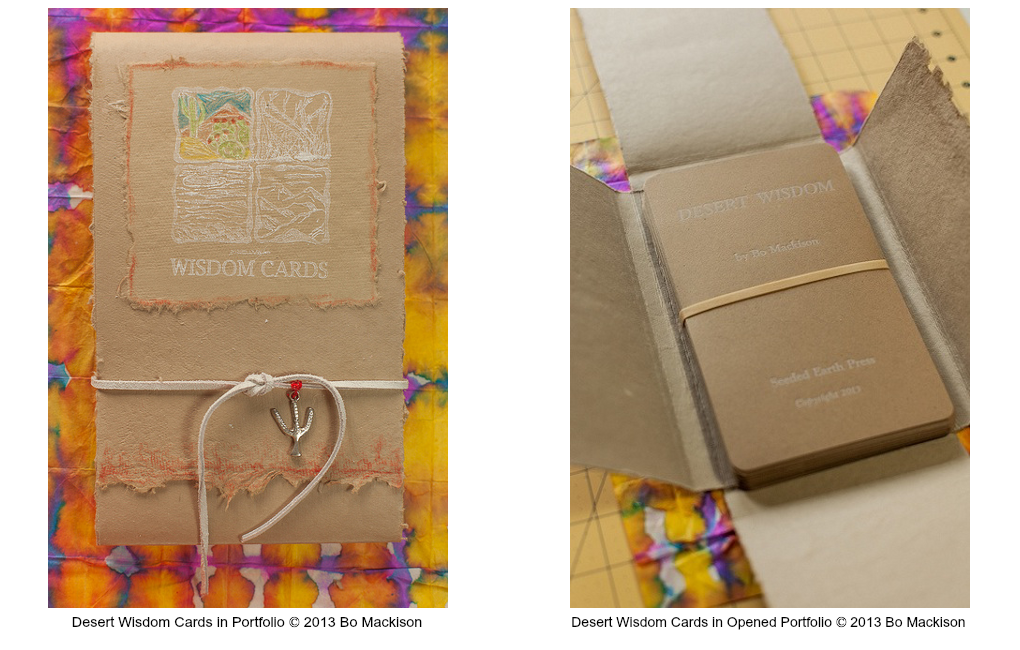 "The Desert Wisdom Cards arrived in the mail.  Every image and its accompanying word carries depth, beauty, and applicable layers of meaning.  Today's pull, Perseverance, was a clear and touching reminder that the tough stuff can be fertile ground for something alive and affirming.  Your great care in putting these cards together, including the elegant packaging, shines through. Lovely!  Thank you for creating this deck."

~ James Wells, Consultant, Teacher and Tarot Card Facilitator
How were the Desert Wisdom Cards Created?
I created the set of Desert Wisdom Cards to use during my morning practice, focusing on the photograph for inspiration and reflection. I also used the photo and the cards as prompts for journal writing, and as a springboard for art and nature projects.
While using the photographs in this way, I discovered that the process not only allowed me to use my art for healing, but also provided me with a system that promoted problem solving and goal setting. The cards were a framework to consider choices, make plans, and instigate changes in my life — a self-discovery and healing process of an in-depth creative practice.
For the entire story of how I first created a Desert Wisdom Card, see Beyond, The World. Little did I know, when I wrote about this experience, that I really would discover the great "Beyond" and way of living in my world, based on nature, photography, and creativity.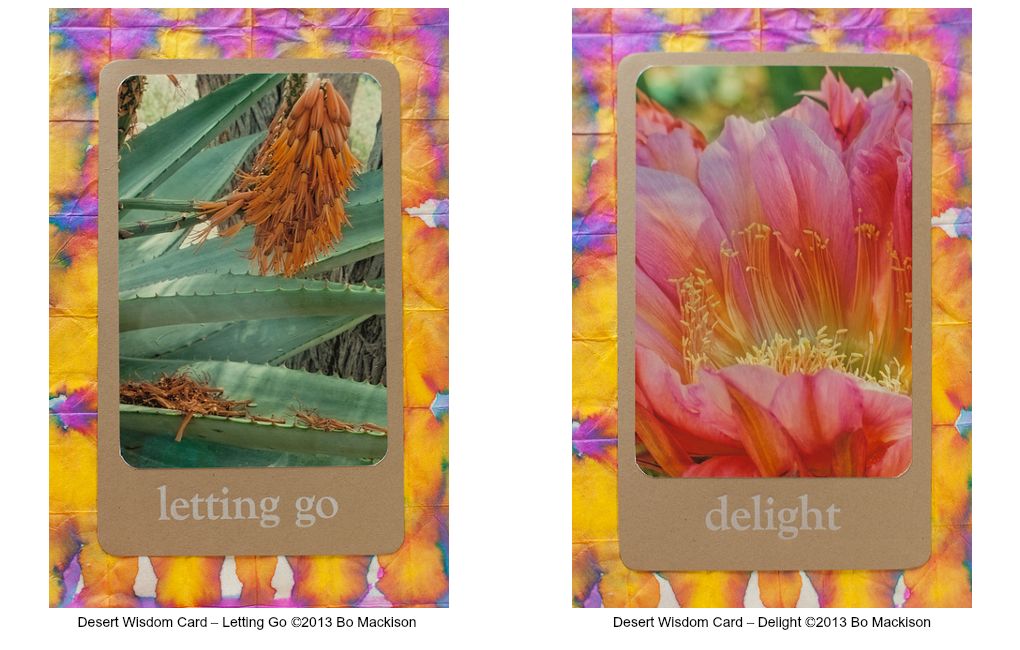 "Your magnificent cards arrived just now! I'm thrilled! What an amazing, thoughtful, inspirational, and BEAUTIFUL, creation! The images are gorgeous. As I looked slowly through the entire deck I felt that each card is a portal into a world awaiting exploration on so many levels. I adore the milagro. It's perfect.

The deck is so beautifully and sacredly presented. The texture of the paper, the indentation of the letters on the cards, the colors of the images, the leather thong tie, the deckled paper, the muslin bag… all of it is so carefully articulated and thoughtfully presented.

I fanned the deck face down and chose my first card… perseverance. Definitely the card I need right now as I persevere to complete my next book and prepare all the materials for the retreat in a few weeks. I have a little easel on my prayer table where I will place a card each morning. Such a beautiful new spiritual practice to begin the day."
~ Sibyl Dana Reynolds, Founder of Sacred Life Arts & Author of Ink and Honey
Specifications
The cards are 7.5 inches by 4.5 inches. Each card includes one of my color photographs of the Sonoran Desert and a word for reflection.
They are printed on a letterpress — the type is set by hand and each card individually printed on a Vandercook No. 3 Letterpress.
Desert Wisdom Cards – Series I
The cards are in a four flap portfolio, tied with a leather wrap. The tie has an attached milagro, or tiny miracle, charm. These Central American folk charms feature natural symbols of the desert region. Let me choose one for you.
The Desert Wisdom Card Series I includes 26 cards, folded into a paper portfolio for storage, and comes in a protective muslin cloth bag.
Printed in a limited edition of 26. Numbered and signed by the artist. SERIES ONE – SOLD OUT.
Desert Wisdom Cards – Series II
The cards come in a hand decorated folded portfolio. Each portfolio is individually painted with inks and acrylics, and finished with metallic embellishments. Painted in the color palette of the desert, each is unique and a mini-work of art.
The Desert Wisdom Card Set – Series II  includes 14 cards and the portfolio for storage.
This set is also printed in a limited edition of 26. Numbered and signed by the artist.
Price: $45.00.
Available at  My Etsy Store, Bo Mackison
When I returned from retreat, I found an absolutely gorgeous deck of Desert Wisdom Cards in my post box. Created by the eloquent Bo Mackison, they are emerging, for me, as a wonderful addition to my morning meditation, a potent reminder of the still voice we find in nature.   ~ Lisa Sanger Blinn

 
Desert Wisdom Cards- Series III
The third set of 18 additional desert themed art cards, and the final set, are a perfect accompaniment to the first and/or second Desert Wisdom Card series.
The Series III cards can be used alone or combined with either the original series (to make a set of 42 cards), the second series (to make a set of 32 cards, or added to both series to make a complete deck of 56 cards.
This set of cards adds new depth to the original sets, and includes the words sensuality, spaciousness, rejuvenation, reparation and 14 more.
The third series are letter-press printed cards with Sonoran Desert photographs, published in a limited edition of 26.
A four page pamphlet is also included which offers suggestions for using the cards, including activities for body, mind and spirit.
Available on Etsy. $55.00